Nrithyadhara
Nrithyadhara is a non-profit registered trust whose primary aim is to help needy, aged artists with a monthly honorarium of Rs.500 throughout their lifetime apart from propogating and promoting Mohiniattam worldwide.

The artist welfare scheme was inaugurated on the 21st of August 2000. M. Mr. M.G. Menon of Washington, D.C. is on the advisory committee.

The trust is chaired by Shri. M.P. Veerendra Kumar, Dr. Kalamandalam Radhika is the managing trustee, and Shri. Joy Chemmachel of Chicago, Dr.Fr. James Aerthayil, and Fr.John Kallarackal are the trustees.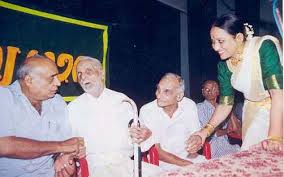 BRIEF BIO-DATA OF ARTISTS WHO ARE THE BENEFICIARIES OF NRITYA DHARA TRUST
1) Cherikkat Narayanan Namboodiri (77 yrs) Patakam Artist: Namboodiri who lost his eyes when he was three years old, developed a passion for Patakam which is a simple version of Koothu. He is the only one who can claim to have performed in all the major temples from Nagarkoil to Kasaragode. Old age has made this great artist lose his sense of hearing too. He has to perform even now to eke out his living.
2) Kalamandalam Govinda Warrier (84yrs) Aharya Artist : This great veteran is responsible for the vast treasure house of the rich and varied Kathakali costumes and ornaments. Now at 84 with failing ill health and no financial support ,he is at the mercy of his well wishers.
3) M.Venkatagiriappa (78 yrs) Violin vidwan: This great maestro is the student of Shri P. Bhuvaneshwariah. He has travelled world wide with his Guru. Although fame and accolades have come his way he is living in penury with failing ill health.
The Second List of Beneficiaries
1) Kalamandalam Ramankutty Marar: Studied Chenda from Kalamandalam. He is in his late 70's and is leading a life of penury.
2) Cyriac Chacko: A saxophone artist in his late 70's is living on the charity of neighbors and well wishers
3) B.R.Sunder Kumar: A great dance teacher who has won many awards is now not able to earn for himself.
4) Chennakeshava: An accompanying musician for almost all performing artists is now an indigent artist.
5) Mahadevanna: A well known mrdangam and tabla artist is now facing poverty.
6) Venkateshacharya Bhagvathar : In his 70's, an accomplished musician is now unable to perform or teach music.
The Third List of Beneficiaries
1) Kalamandalam Divakaran Nair (Ottamthullal) (82 yrs): This great maestro of Ottamthullal who has students world wide is in dire need of financial help as old age has caught up with him.The pension which he gets is very minimal.
2) Shri K.V.Ramakrishnan (Pavakathakali Artist): This artist is in financial difficulties for the past few years as he is almost laid up and cannot actively participate in performances.
The Fourth List of Beneficiaries
1) Kalamandalam Iswara Warier (74): Belongs to Manissey in Palakkad district. Had his training in maddalam at Kalamandalam from Thiruvalwaamala Venkichan Swamy and Kalamandalam Appukutty Poduval. Served Unnai Warrier Smaraka Kalanilayam, Irinjalakuda as teacher of maddalam for 22 years. To this date no pensionary benefits have been sanctioned.
2) Tottara Bhaskaran Nair (72): A veteran performer of Garudan Parava and Kathakali. He hails from an ordinary Nair family of Aryankaavu village, near Kaanhiramattom and has been a totally devoted artist in the said fields since the age of 10. Sri Nair, never out of mundane poverty, is a man of principle and very unassuming. He recently underwent a surgical operation to remove an esophageal malignancy.
Nrithya Dhara also gave financial assistance to the ailing Kathakali artist Kottakal Murali who is now no more.
The Fifth List of Beneficiaries
1) Kalamandalam Rajendran Vellodi: This talented Kathakali singer is a chronic diabetic who is unable to use his legs and needs help even for his daily chores.
2) Mannur V. Krishnan: He has made immense contribution to Pullavanpattu bringing it national recognition. This artist is also very sick and needs constant medical aid.
The sixth list of beneficiaries
Three needy children who underwent open heart surgeries.
The seventh list of beneficiaries
1) Shri Janardhanan Nedungadi (79): An authority on Sopana Sangeetham this artist has spent the major part of his life in the sopanam of Guruvayoor temple.
2) Shri Nanappan Pillai: This ottamthullal artist is leading a life of penury and still has to perform to eke out his living.
THE EIGHT BENEFICIARY is Kundora Kunjara Peruvannan (56): This theyyam artist first lost his toes in the fire and later his leg
THE NINTH BENEFICIARY is SAJITH PANIKKAR This theyyam artist in his 40's who got the title of Panikkar for his dedication and performance of this art form ended his life due to penury.